Community Involvement
Charity of the Month
Our Charity of the Month program was created to help local charities and non-profits generate awareness in the DFW. Their information is located on the back of our care instruction cards that are attached to all of our arrangements and plants delivered during their assigned month.
Here are some causes we have been proud to help. Please click on the link to learn more about the amazing organizations in DFW.
For more information on how to be a part of our Charity of the Month program please email charity@drdelphinium.com.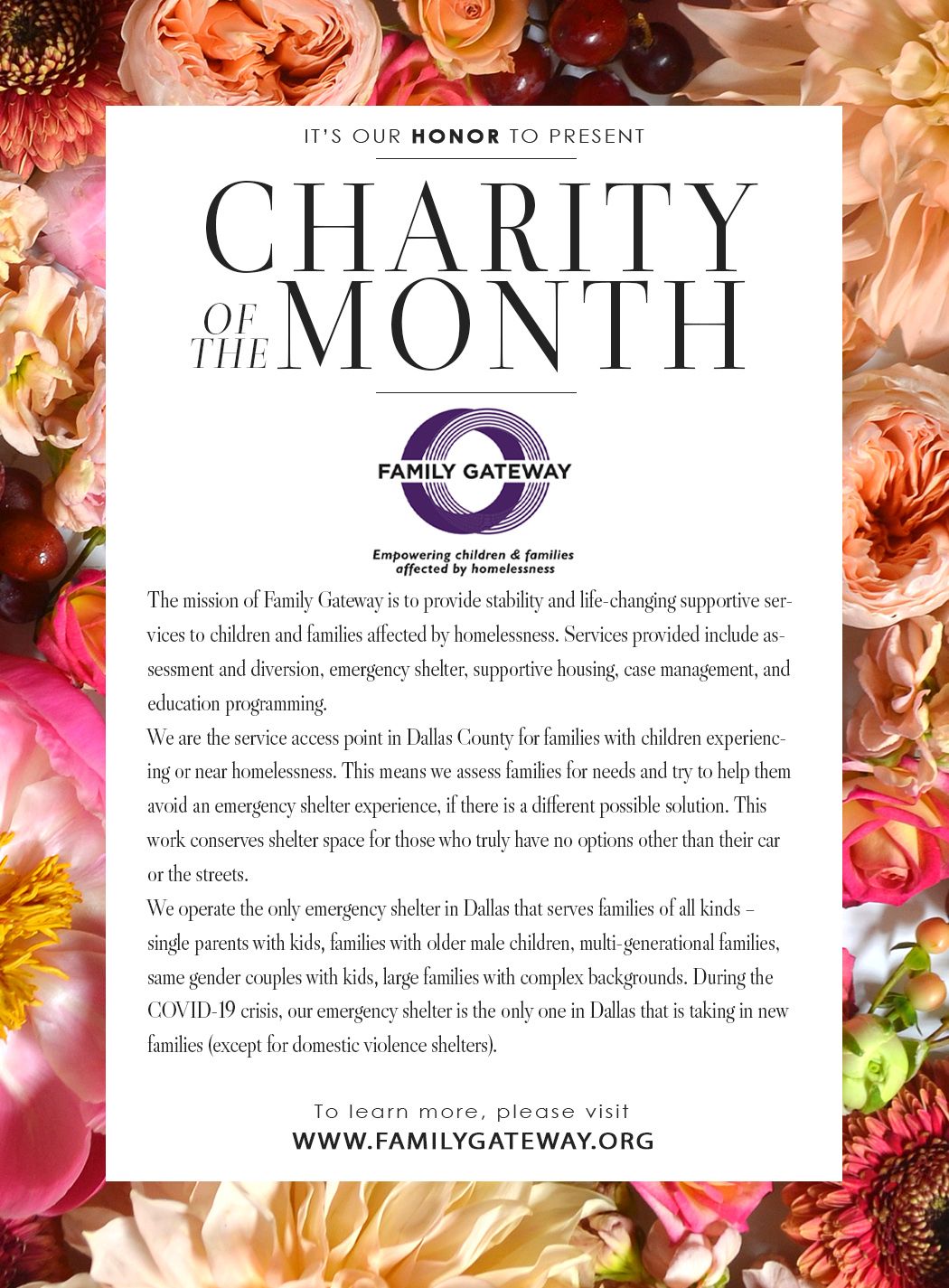 July 2020
Family Gateway
Why we support them?
We work to provide safety and stability by acting as the service access point in Dallas County for families with children experiencing or near homelessness. This means we answer Homeless Crisis Helpline calls for all families, assess each family for needs, and determine the appropriate intervention, which isn't always shelter. This work conserves shelter beds and assistance for those who truly have no resources of their own and no options other than their car or the streets.
We operate the only emergency shelter in Dallas that serves families of all kinds – single parents with kids, families with older male children, multi-generational families, same gender couples with kids, large families with complex backgrounds. We keep families together and work with them as they are.
At Family Gateway, we also seek to create change, not just in the lives of individual families, but in our community. We are involved in community-wide action that addresses underlying problems, provides lasting solutions, and not only pulls families out of the crisis of homelessness but also prevents other families from experiencing it in the first place. We do this by:
Playing a leadership role in our Continuum of Care (CoC)
Staying current on best practices (i.e. Assessment & Diversion)
Forming partnerships with businesses and other stakeholders
Building community awareness and education
Providing volunteer and donor opportunities